All Staff Training
All Staff Awareness Products
In 2017, JESIP released new All Staff Awareness products for single service use. These are designed for members of organisations who may respond to incidents. These products are freely available for responder agencies to use. We have produced both E-learning products and also a classroom product which delivers the same Learning Outcomes as the E-learning.
There is no national requirement for a Knowledge Check or any national minimum score. We have included some Quiz Questions and Answers should organisations wish to use them.
E-Learning Package
Please check whether your service have made this package available via your organisation's e-learning platform before completing remotely.
To complete the all staff awareness package click here.
To download a version to run on your e-learning platform use the links below
Classroom Products
To download the version to use in a classroom to a group use the links below
Wider Responders Package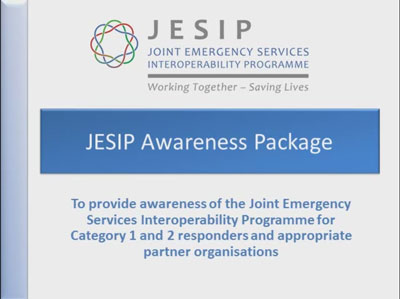 Click here to watch JESIP is focussed on improving how the police, fire and ambulance services work together at the scene of a major or complex incident. However, emergency response is a multi-agency activity and will usually involve collaboration with variety of other responder organisations.

If you work in one of the many wider responder organisations in the UK, JESIP has produced a Wider Responders awareness package to help explain what impact JESIP will have.

You can:
View the presentation as a video with a commentary by clicking on the play button opposite (you will need speakers or headset to hear the commentary)
Download a copy of the presentation slides for use locally (see instructions for downloads below)
In combination with the JESIP film the awareness package is designed to provide information about JESIP specifically for Category 1 and 2 responders and appropriate partner organisations such as the military and the voluntary sector.

To download

The presentation is available in two versions of PowerPoint
What wider responders need to know about JESIP...

It is really important for wider responders, partner agencies and voluntary organisations to be assured that:
There will be no change to the level, nature and timing of engagement with the emergency services.
All responders will benefit from improvements in how the emergency services work together at the incident scene because of JESIP.
A better coordinated and more efficient command structure will make integration of the activities of wider responders easier and more beneficial for all.
Other responders attending the scene should be familiar with the principles for joint working including how services will more effectively establish what is happening at the scene by the use of METHANE.
Other responders should also be aware of the Joint Decision Model so that they can engage in this process when required.
Other training products and support
To support any JESIP training, there are multiple tools to support learning including: