Classroom Courses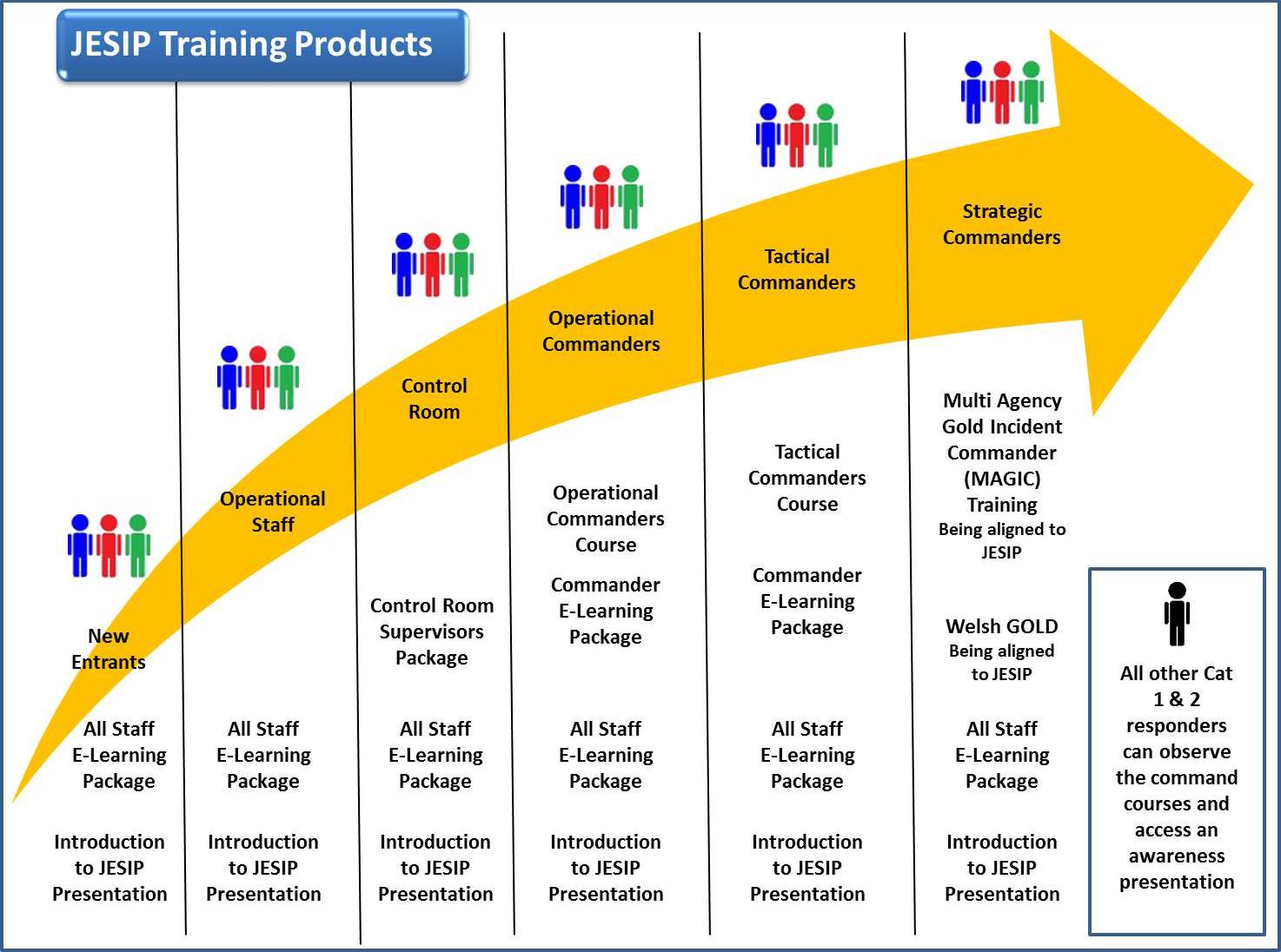 JESIP has produced a range of classroom based training courses aimed primarily at those who perform command roles when responding to emergencies. They have been reviewed in 2017 in line with the revised Joint Doctrine.
There are products for different groups of staff as per the golden arrow diagram shown here, but JESIP content is also being incorporated into other training products by all agencies which is to be encouraged.
We have provided a Learning Outcomes Framework to help ensure any locally produced training still achieves the right outcomes for staff.
Command and Control Room Managers / Supervisors Training
Part of the revision process has led to the original individual one day command courses for operational and tactical command being combined to a single modular based trianing course. This allow for a more flexible delivery and for other partners to take part.
There is also a revised one day modular course aimed at control room managers and supervisors.
Both courses are most successful where they are delivered to staff in a joint training environment and delivered by a multi-agency training team.
The products are provided to the emergency services under licence arrangements from the College of Policing and therefore access to them is limited to the emergency services. JESIP encourages local services to include their partners through Local Resilience Forums in their multi-agency training.
How will course be delivered?
These JESIP one day courses are designed to be delivered by the emergency services. Relevant staff from other repsonder agencies are encouraged to attend these command courses where feasible.
Any arrangements to attend courses should be discussed and agreed in advance with those delivering the training.
Other training products and support
To support any JESIP training, there are multiple tools to support learning including:

What is available for other responder agencies?
There are a range of tools available to help learn about JESIP, they include: