Classroom Products
JESIP has produced a range of classroom based training courses aimed primarily at those who perform command roles when responding to emergencies. They have been reviewed in 2017 in line with the revised Joint Doctrine.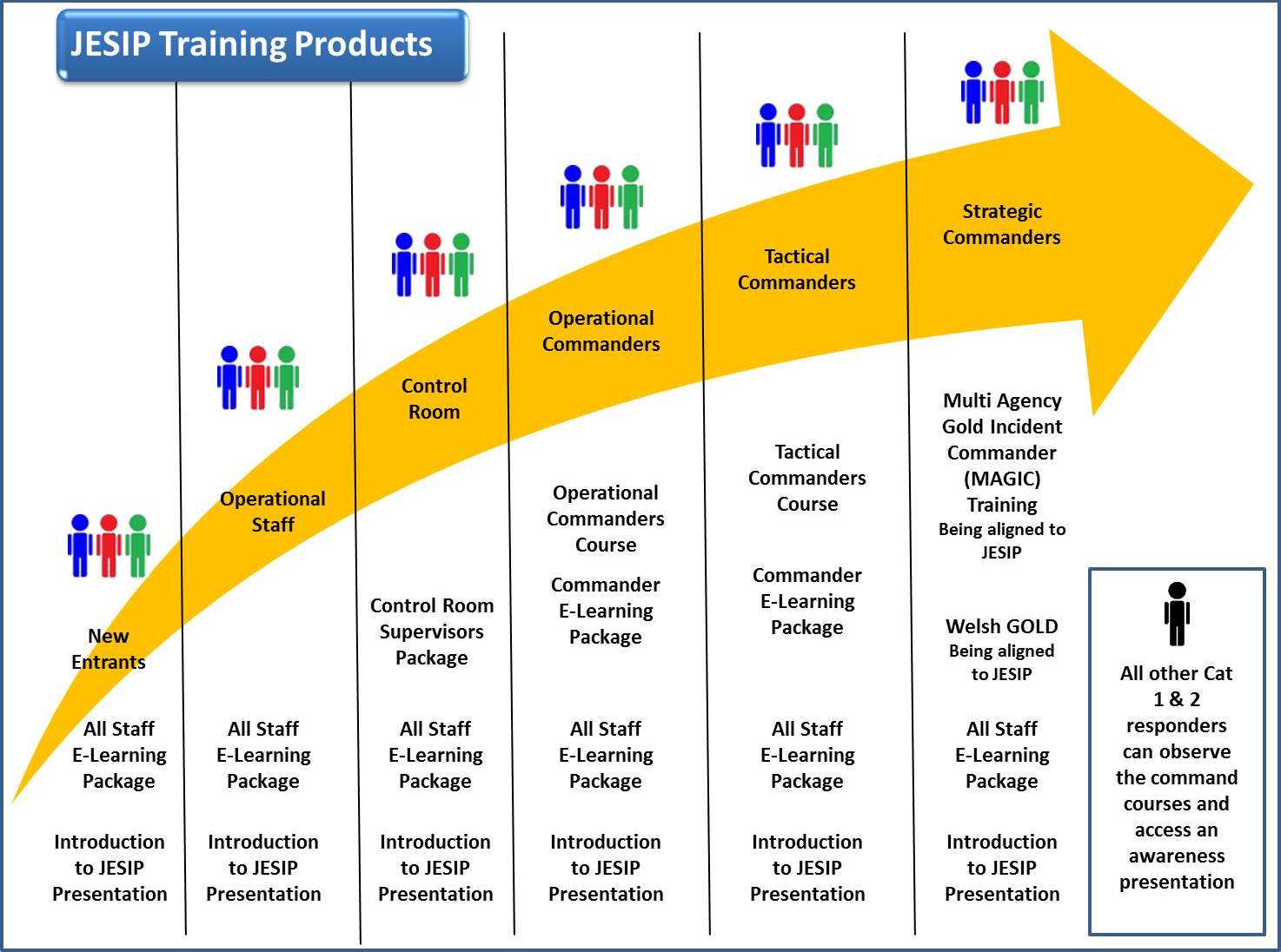 There are products for different groups of staff as per the golden arrow diagram shown here, but JESIP content is also being incorporated into other training products by all agencies which is to be encouraged.
We have provided a Learning Outcomes Framework to help ensure any locally produced training still achieves the right outcomes for staff.
Any training provided to staff should ensure the relevant learning outcomes are achieved in line with their role or level of command as detailed in the Learning Outcomes Framework.
Services can either:
utilise the Joint Emergency Services Interoperability training courses (revised in 2017)
incorporate relevant JESIP content into locally developed courses
Command Training
Any staff who are likely to be in command of their organisations resources at a multi-agency incident for any length of time should have appropriate knowledge of interoperability in line with their level of command. This includes operational and tactical commanders and control room managers and supervisors.
National Commanders Training Product
The College of Policing have produced a single training course that is suitable for both operational and tactical commanders. This product can be used for both initial JESIP command training and refresher training. All English and Welsh Ambulance, Fire and Police services can be licensed to use this product. The package will also be available on NCALT soon.
For the course to meet the national recommended standards there should be members of the Ambulance, Fire and Police services in the room.
The minimum standard is that there should be two emergency service trainers, from different services present and that there should be members of the Ambulance, Fire and Police services in the room as either students or trainers.
The gold standard would be Ambulance, Fire and Police trainers and students, along with students, and possibly trainers, from other responder agencies.
JESIP Command - Trainer Guides
JESIP Command Training Modules (PowerPoint)
Command Refresher Training
Commanders should be provided the opportunity to refresh their knowledge in a multi-agency environment with peers every three years. Services may choose to provide refresher training using the College of Policing national products or products produced locally that meet the JESIP Learning Outcomes.
Train the Trainer
No further Train the Trainer workshops will be provided on a national basis. There is no further requirement for command trainers to attend the College of Policing JESIP Train the Trainer course. The command trainer person specification is available here.
Command and Control Room Managers / Supervisors Training
We are pleased to announce the eagerly anticipated launch of the new Control Room packages for services. This supercedes the College of Policing one day control room managers and supervisors course.
We have created:
A Commanders'/managers'/supervisors' course. This should be delivered using the same methodology as the consolidated commanders' course. There is a trainer's handbook and PowerPoint deck to support delivery.
A short series of slides that services can use in conjunction with the online EPC produced all staff awareness product to give control room staff an awareness of JESIP by distance learning.
A version of the classroom awareness product developed by the EPC which has been modified for control room staff.
Classroom Awareness Products
In 2017, JESIP released new All Staff Awareness products for single service use. These are designed for members of organisations who may respond to incidents. These products are freely available for responder agencies to use. We have produced both E-learning products which are listed on the Awareness Products page and also a classroom product which delivers the same Learning Outcomes as the E-learning.
There is no national requirement for a Knowledge Check or any national minimum score. We have included some Quiz Questions and Answers should organisations wish to use them. The classroom products are available below:
JESIP All Staff Awareness Product - Classroom delivery version
We will shortly launch a Control Room Awareness Package.
For more information email contact@jesip.org.uk.
Original JESIP Products
For a number of years JESIP has offered awareness packages for different audiences. These are still available below.
Introduction to JESIP
These slides have been primarily designed to introduce the concepts of emergency services interoperability and JESIP to responder staff working in the emergency services. Wider responder organisations may also find this a useful tool to raise awareness of JESIP with staff.

Notes for the presenter are included within the slide pack. If you use these slides please let us have any feedback so that we can continually improve our range of training and awareness products.

Click here to download a version for PowerPoint 2010 (.pptx)

Click here to download a version for PowerPoint 97-2003 (.ppt)
Wider Responders Package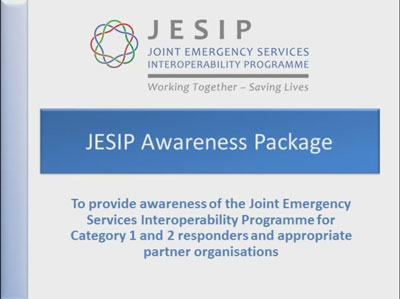 Click here to watch JESIP is focussed on improving how the police, fire and ambulance services work together at the scene of a major or complex incident. However, emergency response is a multi-agency activity and will usually involve collaboration with variety of other responder organisations.

If you work in one of the many wider responder organisations in the UK, JESIP has produced a Wider Responders awareness package to help explain what impact JESIP will have.

You can:
View the presentation as a video with a commentary by clicking on the play button opposite (you will need speakers or headset to hear the commentary)
Download a copy of the presentation slides for use locally (see instructions for downloads below)
In combination with the JESIP film the awareness package is designed to provide information about JESIP specifically for Category 1 and 2 responders and appropriate partner organisations such as the military and the voluntary sector.

To download

The presentation is available in two versions of PowerPoint
What wider responders need to know about JESIP...

It is really important for wider responders, partner agencies and voluntary organisations to be assured that:
There will be no change to the level, nature and timing of engagement with the emergency services.
All responders will benefit from improvements in how the emergency services work together at the incident scene because of JESIP.
A better coordinated and more efficient command structure will make integration of the activities of wider responders easier and more beneficial for all.
Other responders attending the scene should be familiar with the principles for joint working including how services will more effectively establish what is happening at the scene by the use of METHANE.
Other responders should also be aware of the Joint Decision Model so that they can engage in this process when required.
Other training products and support
To support any JESIP training, there are multiple tools to support learning including: