Commander Training
JESIP has produced a range of classroom based training courses aimed primarily at those who perform command roles when responding to emergencies. They have been reviewed in 2017 in line with the revised Joint Doctrine.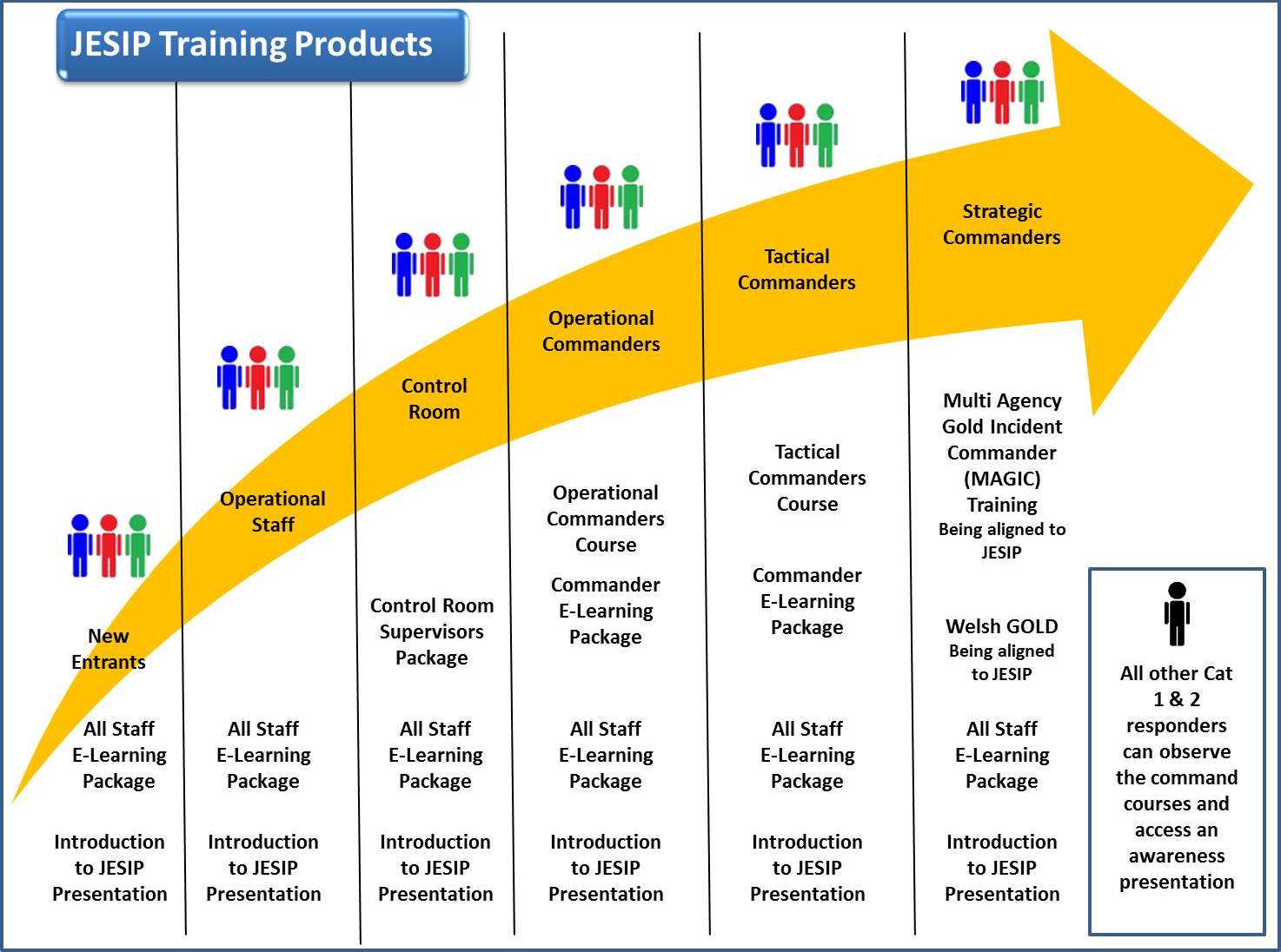 There are products for different groups of staff as per the golden arrow diagram shown here, but JESIP content is also being incorporated into other training products by all agencies which is to be encouraged.
We have provided a Learning Outcomes Framework to help ensure any locally produced training still achieves the right outcomes for staff.
Any training provided to staff should ensure the relevant learning outcomes are achieved in line with their role or level of command as detailed in the Learning Outcomes Framework.
Services can either:
utilise the Joint Emergency Services Interoperability training courses (revised in 2017)
incorporate relevant JESIP content into locally developed courses
Command Training
Any staff who are likely to be in command of their organisations resources at a multi-agency incident for any length of time should have appropriate knowledge of interoperability in line with their level of command. This includes operational and tactical commanders and control room managers and supervisors.
National Commanders Training Product
The College of Policing have produced a single training course that is suitable for both operational and tactical commanders. This product can be used for both initial JESIP command training and refresher training. All English and Welsh Ambulance, Fire and Police services can be licensed to use this product. The package will also be available on NCALT soon.
For the course to meet the national recommended standards there should be members of the Ambulance, Fire and Police services in the room.
The minimum standard is that there should be two emergency service trainers, from different services present and that there should be members of the Ambulance, Fire and Police services in the room as either students or trainers.
The gold standard would be Ambulance, Fire and Police trainers and students, along with students, and possibly trainers, from other responder agencies.
JESIP Command - Trainer Guides
JESIP Command Training Modules (PowerPoint)
Command Refresher Training
Commanders should be provided the opportunity to refresh their knowledge in a multi-agency environment with peers every three years. Services may choose to provide refresher training using the College of Policing national products or products produced locally that meet the JESIP Learning Outcomes.
E-learning
Below are the downloadable versions that have been created to run on organisation's e-learning platforms:
Operational - https://ds.college.police.uk/orefuwas/cop_ds_547/
Tactical - https://ds.college.police.uk/orefuwas/cop_ds_548/
Train the Trainer
No further Train the Trainer workshops will be provided on a national basis. There is no further requirement for command trainers to attend the College of Policing JESIP Train the Trainer course. The command trainer person specification is available here.